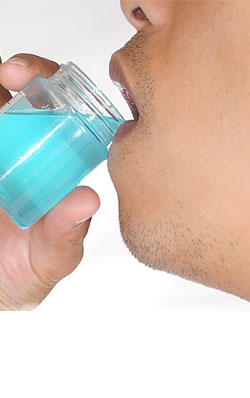 The Ayurvedic Mouth Wash - Gandoosha & Kavala Graha
Oral cavity is one of the nine openings of physical body according to Ayurveda. These openings are openings to impurities since various body secretions pass through them day and night. So Ayurveda suggest cleansing them frequently and regularly. Regarding oral cavity, daily regimen of Ayurveda insist Brushing the teeth (Danta dhavana) Tongue scraping (Jihwanirlekhana) Gargling (Gandoosha & Kavala graha) Chewing betel (Tambula sevana) and cleaning the face (Mukha Prakshalana).
The interrelationship between oral and general health is evidenced by association between severe periodontal disease with diabetes, psoriasis and many other communicable and chronic disorders is due to the common risk factors.Among the measures to keep oral health, Gandoosha and Kavala graha are of added importance. This is also also used to treat various diseases of oral cavity and systemic diseases in Ayurveda. Ayurveda explains 4 types of mouth washes or garglings. These are
1) Snehana or snigda gandoosha which uses lipids including vegetable oils, ghee and meat soups.
2) Shaman gandoosha prepared with decoctions of herbs and basically bitter, sweet and cold.
3) Shodhana gandoosha consist of mouth wash with highly potent medications consisting of alcohol, acids and alkali.
4) Ropan gandoosha are prepared with mild and wound healing medicaments. They are used for ulcerations in mouth or stomatitis

When given as a treatment correct procedure has to be followed for Gandoosha. The medicine must be held in the mouth, or swished, up till phlegm collects in mouth or there is lacrimation, and then spat out. Ayurveda prescribes this treatment in conditions such as headache, all oral cavity disorders, excessive salivation, ear infections, nausea and tastelessness. Regular use can achieve improved voice quality, strength to jaws, improve strength of facial muscles, improved taste perception, strong and healthy teeth and immunity against diseases.

Currently Gandoosha is used by Dentists practicing holistic approach under the name oil pulling. Various clinical studies have been conducted to evaluate the efficacy of this treatment in improving oral health. Studies have shown that Gandoosha treatment using Sesame oil has resulted in a significant reduction in plaque and gingivitis scores. Another study using Sesame oil in comparison with chlorhexidine, the most effective medicine currently used, found it equally effective in halitosis (bad breath) and organisms which are associated with halitosis. The study noted that Sesame oil was more advantageous than chlorhexidine as it caused no staining, no lingering after taste, and no allergy and is cost effective.