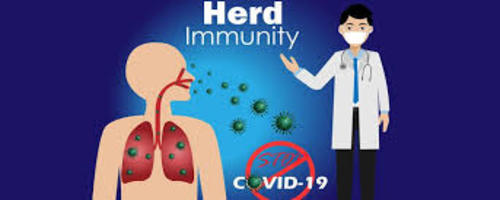 Herd Immunity and COVID 19
You must have all heard the term 'Herd Immunity' quite often these days. So, what exactly is Herd Immunity and how it can minimize the spread of COVID 19?
According to the experts, heard immunity occurs when a large part of the community becomes immune to disease, and the spread of the disease becomes highly unlikely. As a whole, society gets protected and not just the people who are resistant to the disease.
For a disease to spread from one person to another, there needs to be a percentage of the population that can spread the disease, i.e., the Threshold proportion. But when the threshold population is lesser than that of the community, which is immune, the spread instantly declines. This is known as the Herd immunity threshold.
So, how is Herd Immunity achieved?
As per scientists, there are two ways through which one can achieve herd immunity.
Vaccination: A vaccine for the COVID 19 is believed to be an ideal option to achieve herd immunity against the disease. Vaccines create resistance in the body without causing illness or any severe complications. Hence this is believed to be the best way to fight the disease. Children can be provided with the vaccine at a very early age, which will result in better protection of the section of our society, which is vulnerable to the disease. Vaccines in the past have successfully controlled diseases like smallpox, diphtheria, meningitis, and researchers are hopeful that COVID 19 vaccine would have the same effect as well.
Natural Infection: In such a case, when a sufficient number of a community has recovered from the disease and have developed an antibody to fight the virus, herd immunity can then be achieved. Such was the case when H1N1, when the people who contracted the disease, became immune to it later. But in the case of COVID-19, things are pretty unsure as researchers are still trying to figure out if the person will become resistant to future infections or not.
Even if the COVID 19 virus creates a long-lasting immunity, a large number of people would have to get infected to reach the immunity threshold, which can, in turn, overwhelm the medical system. This can also lead to severe complications in people who have a compromised immune system.
So, how can you slow down the spread of the virus?
Avoid significant events and gatherings
Avoid coming in contact with sick people
Wear masks and maintain proper hand hygiene
Stay at home as much as possible and maintain a 6 feet distance between yourself and others
Avoid touching your hands, eyes, and nose
Clean and disinfect surfaces like doorknobs, switches, electronics, etc
Wash your hands with soap and water for 20 seconds or use sanitizer having at least 60% alcohol
In case you feel sick, quarantine yourself and contact your medical practitioner at the earliest and follow his instructions.