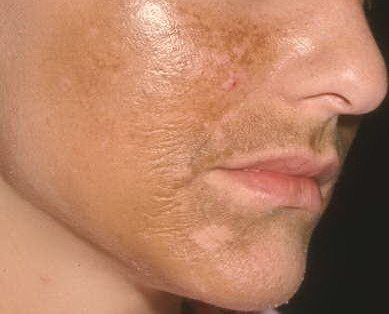 Melasma
Melasma is a common acquired pigmentary skin disorder characterized by a symmetrical macular pigmentation of sun-exposed areas like the face. The three major patterns of pigmentation in melasma are centrofacial (cheeks, forehead, upper lip, and nose), malar (cheeks and nose), and mandibular (mandibular area of cheeks). Several factors such as genetics, sunlight, cosmetics, pregnancy, hormonal treatments, thyroid dysfunction, and drugs have been implicated in the pathogenesis of melasma.
It's also called chloasma, or the mask of pregnancy, when it occurs in pregnant women. The condition is much more common in women than men, though men can get it too.
Symptoms of melasma
Melasma causes patches of discoloration. The patches are darker than your usual skin color. It typically occurs on the face and is symmetrical, with matching marks on both sides of the face. Other areas of your body that are often exposed to sun can also develop melasma.
Brownish colored patches usually appear on the:
* cheeks
* forehead
* bridge of the nose
* chin
It can also occur on the neck and forearms. The skin discoloration doesn't do any physical harm, but you may feel self-conscious about the way it looks. If you notice these symptoms of melasma, see your healthcare professional. They might refer you to a dermatologist, a doctor who specializes in treating skin disorders.