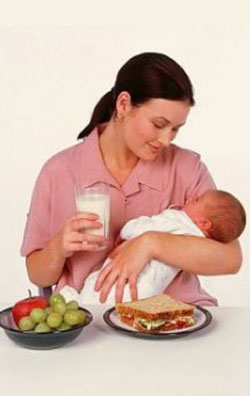 NUTRITION IN LACTATION
The physiological development of lactation begins during the latter period of pregnancy. Apart from the growth and development of mammary glands, energy reserves are laid down in the form of fat in the body of the mother to be utilised during lactation.
What ever the mother eats the baby also gets the benefit out of it. Hence, for supporting the foetal and infant growth the nutritional levels have to be increased. Women are expected to consume food during the lactating period same as the way how they used to consume during pregnancy.
Through the mother's milk, not only the nutrition is passed on to the baby, but also the immunity and resistance to diseases is also generated.

Diet in Lactation:
A balanced diet for a nursing mother should basically contain the same kinds of foods recommended during pregnancy. But in slightly increased quantities. As the need for energy, protein, calcium, vitamin A and vitamin C is increased during lactation, foodstuffs containing these nutrients should be liberally included in the mother's diet.

The process of lactation is known to increase the need for energy, protein, minerals, vitamins and water. Though water is not a food technically, it is said to have at least 8 glasses of water (64 ounces) to enhance lactation.
We should consider the following points while planning a diet for a nursing mother.
1. Include more than one cereal to supply energy such as rice, wheat and ragi may be included in the daily menu.
2. Extra amounts of calcium are required for milk production. Actually, the calcium requirement doubles during lactation. Therefore, good sources of calcium such as ragi, milk, curd, leafy vegetables and gingelly seeds should find a prime place in the maternal diet.
3. Leafy vegetables such as drumstick leaves and amaranth should go into the daily diet. A recipe based on leafy vegetables is a 'must' as they provide calcium, iron, vitamin A, folic acid and riboflavin.
4. Good quality protein may be supplied through milk, curd, egg. Fish and meat. Vegetarians must include different types of pulses. Consumption of oatmeal improves and maintains the milk supply.
5. Since fruits supply vitamin C, generous amounts of fruits should be included in the diet.
6. Thus a mixed diet including a variety of cereals, pulses, green leafy vegetables, milk and curd will provide the nursing mother with all the nutrients. Such diet not only helps lactation, but will also help the mother to withstand the strain of her daily routine.
7. Including garlic in a nursing mother's diet would also boost their milk production, though it's flavour wont be very acceptable by new mothers.
8. All vegetables including green leafy vegetables and complex carbohydrates are best for lactating mothers.
9. Above all it is important for breast-feeding mothers to remain hydrated. Make sure to drink water very offten, ideally before you are feeling thirsty, and to drink a lot of water if urine appears dark yellow.