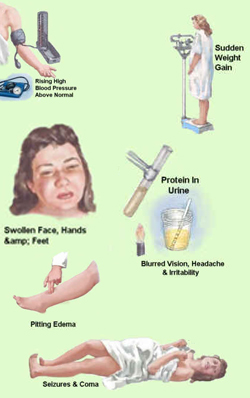 Presenting symptoms of preeclampsia and associated complications
Preeclampsia is a pregnancy related complication characterized by raised blood pressure and have sign of impaired kidney functioning.
In many women suffering from preeclampsia there may not be any symptom. Blood pressure usually rises very slowly although in many women the rise is sudden onset. Hence regular monitoring of blood pressure in a pregnant woman is very important as elevated blood pressure is usually the first sign of preeclampsia.
Blood pressure measured as 140/90mm of Hg on two separate sitting at al interval of at least 4 hours is considered to be high.
Other than raised blood pressure, common symptoms include
1. Excretion of large amount of protein through urine
2. Severe degree of headache
3. Visual problems characterized by blurring of vision, increased sensitivity towards light, sudden onset temporary loss of vision etc
4. Pain in the upper part of the abdomen usually just beneath the ribs on the right side
5. Frequent episodes of nausea, vomiting etc
6. Reduced urine output
7. Fall in platelet level in the blood leading to increased bleeding tendency etc
8. Inadequate functioning of the liver
9. Difficulty in breathing due to accumulation of fluid in the lungs
One of the characteristic symptoms associated with preeclampsia is sudden increase in body weight and swelling of limbs (both the upper and lower limbs). However both of these features commonly occur in normal pregnancy also hence these symptoms are not so reliable.
The health risk in both the mother and the baby increases if the symptoms of preeclampsia appear earlier (before 32 weeks of pregnancy).
Commonly associated complications are
1. Inadequate blood flow to the placenta: impaired blood supply to the placenta leads to inadequate blood flow to the growing baby and thus less oxygen and fewer nutrients are supplied to the baby. This ultimately results into delayed growth of the baby, low birth weight babies, premature birth etc. premature delivery of the baby is commonly associated with difficult breathing.
2. Placental abruption: placental abruption is characterized by abnormal and untimely (early) separation of the placenta from the inner lining of the uterus. It could be life threatening for both the mother (due to severe blood loss) and the baby (due to lack of oxygen).
3. HELLP syndrome: this syndrome is characterized by hemolysis (fall in hemoglobin level due to excessive break down of RBCs), raised level of liver enzymes and fall in platelet count. Common presenting symptoms of HELLP syndrome include severe abdominal pain on the right upper part, nausea, vomiting, headache etc. HELLP syndrome could be fatal for both the mother and the baby as several organs are damaged, the syndrome may occur even before high blood pressure is detected.
4. Eclampsia: this one of the most important complications of untreated preeclampsia. Presenting features include episodes of convulsion along with the usual features of preeclampsia. Common warning signs and symptoms of eclampsia are right abdominal pain, impaired vision even sudden complete loss of vision, altered mental alertness (confusion even coma) etc. Immediate delivery of the baby is the treatment of eclampsia no matter what is the gestational age.
5. Cardiovascular diseases: preeclampsia increases the risk of suffering from cardiovascular diseases in the mother in future; the risk is further increased if there is past history of preeclampsia in previous pregnancies or preterm delivery (delivery of baby before completion of 37 weeks of gestation). Hence to reduce the risk of preeclampsia in future pregnancies mothers should maintain body weight within normal range, eat healthy diet rich in fruits and vegetables, exercise and quit smoking.