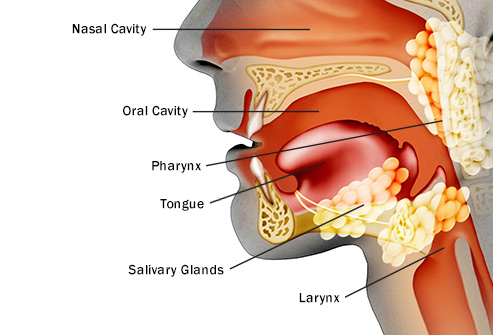 Throat cancer - signs and symptoms
Throat cancer refers to cancer of the voice box, vocal cords, and other parts of the throat, such as the tonsils and oropharynx. Throat cancer is often grouped into two categories: pharyngeal cancer and laryngeal cancer.
Pharyngeal cancer develops in the pharynx, which is the hollow tube that runs from behind your nose to the top of your windpipe. Pharyngeal cancers that develop in the neck and throat include:
* Nasopharynx cancer (upper part of the throat)
* Oropharynx cancer (middle part of the throat)
* Hypopharynx cancer (bottom part of the throat)
Laryngeal cancer forms in the larynx, which is the voice box.
Men are most likely to develop throat cancer than woman. Smoking and excessive alcohol consumption increases the risk of developing throat cancer. It can be difficult to detect throat cancer in its early stages.
Common signs and symptoms of throat cancer include:
* Change in voice
* Trouble swallowing
* Weight loss
* Sore throat
* Persistent cough (may cough up blood)
* Swollen lymph nodes in the neck
* Wheezing
* Ear pain
* Hoarseness
Consult a doctor if you have any of these symptoms and they don't improve after two to three weeks.