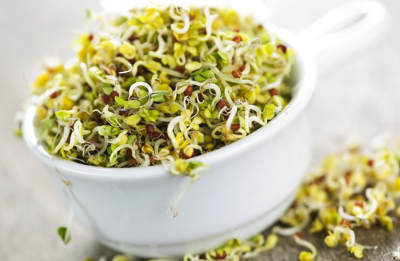 Sprouts - A storehouse of vitality
Sprouts are the 'shooting' stars of gastrosphere, with health specialists sprouting everything from grains and seeds to pulses. Here's why it makes sense to include them in your diet.

Super grub:
Sprouts are the effectively living foods and one of the richest forms of nutrients known. We sprout our pulses to in order to boost its nutritional content. Generally, sprouts are rich sources of vitamin C, B, fibre and protein, which are great for boosting the immune system.

Sprouts make perfect sense for those watching the waistline, since they are high in insoluble fibre that is crucial for weight loss. Controlled weight will also keep beasts like, diabetes, depression and high BP at bay.

So much to sprout:
You have probably heard of bean sprouts or the latest Brussels sprouts but there is so much more that can be sprouted- grains, such as barley and wheat, radish and broccoli seeds, kidney beans, soybean and even brown rice.
Sprouted grains are not allowed to reach their full-grown stage and are picked before the seeds use the starch to grow.

Break the monotony:
Try something different every next time. You could mix and match various sprouts and take a break while consuming them. Your body needs to work extra hard to process this raw food, so opt for sprouts once a week or twice maximum. Also, whenever you would use a grain, nut or bean in your cooking, replace it with a sprouted one.

For lustrous hair:
Sprouts are full of magical portion potion carotene. Regular consumption of sprouts adds shine, elasticity and lustre to the hair. It contains Omega-3 fatty acids, which are vital for the nourishment of hair follicles. Sprouts also prevent the hair from appearing dull.