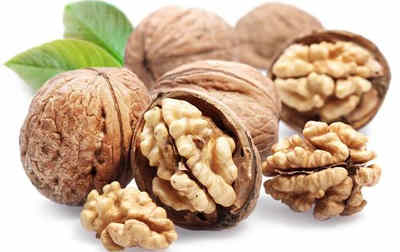 Walnuts can slow down prostate cancer growth
Walnuts when crack open consists of several nutritional benefits namely, vitamins, phenolic acids and flavonoids and also essence of omega-3 fatty acids too. These compounds help improve cognitive functions, it would even help with a good night's sleep. Some studies have proven that having a handful of walnuts has got almost double of many antioxidants as equivalent to any other commonly eaten nuts and dry fruits. Walnuts being added to your daily diet would immensely improve your health.

Diets rich in whole walnuts or walnut oil can slow prostate cancer growth, says a study. "While they (walnuts) are high in fat, their fat does not drive prostate cancer growth. In fact, walnuts do just the opposite when fed to mice," lead scientist and research nutritionist Paul Davis from University of California Davis.

The walnut diet also reduced levels of the hormone IGF-1, which had been previously implicated in both prostate and breast cancer.

In the study, researchers used a mixture of fats with virtually the same fatty acid content as walnuts as their control diet. The mice were fed whole walnuts, walnut oil or the walnut-like fat for 18 weeks. While the walnuts and walnut oil reduced cholesterol and slowed prostate cancer growth, in contrast, the walnut-like fat did not have these effects, confirming that other nut components caused the improvements-not the omega-3s.

In addition, the research demonstrated that walnuts modulate several mechanisms associated with cancer growth."The energy effects from decreasing IGF-1 seem to muck up the works so the cancer can't grow as fast as it normally would," as per the researchers.