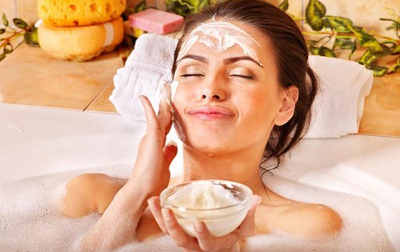 Beauty Benefits of Curd
Curd has got a number of beauty benefits that helps to cure any kind of skin and hair related problems.Curd is not only beneficial for soothing your skin but also does wonder to your stomach as well by improving digestion. Curd is also used as a wonderful beauty recipe and many women make use of it in order to treat various types of skin and hair problems at home.

Treat hair frizz: Apply curd on your hair twice a week, those who undergo frizzy hair texture and have got curly hair, depending on how frizzy your hair gets. You could apply it directly or you can even make a mix of curd along with lemon juice that would help soften your locks and makes it more silky.

Cures rough hair: Expensive and costly hair treatments at the time of winter can make your skin look dry and unruly. Make sure that you use a curd pack once in a week in order to make your hair stay smoother and stronger.

Treat dandruff with curd and lemon: A very good cure and remedy for dandruff is a mix of curd and lemon pack that is applied once or twice every week will take good care of dandruff problems in your hair.

Curd and besan for smooth, acne free skin: Curd and besan also helps reduce the occurrence of acne. In addition to this, it also helps keep your complexion clean and smooth.

Reduces tanning: A plain curd pack also treats tanning. Whether the tanning is mild or severe, you can apply a base of plain curd on your face and neck every day to keep your skin clear.