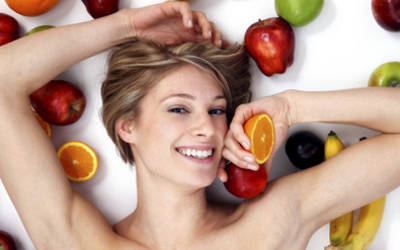 Imbibe real beauty with vitamins
To maintain and sustain a proper health, your skin too needs all the nourishment it requires. And in order to achieve it a healthy dose of nourishment would be incomplete without a specific intake of vitamins. The regular intake of vitamins provides your skin with a youthful glow, suppleness and also elasticity.

Just like any other organ your skin needs proper nourishment too, to sustain proper health. And, a healthy dose of nourishment is incomplete without due intake of vitamins – as they provide your skin with the youthful glow of good health by maintaining its suppleness and elasticity.

Age-defying Vitamin: Vitamin-A
Vitamin A is mainly used in the preparation of night creams and other medicated body lotions for preventing the early signs of aging. Vitamin A consists of retinol, a compound that helps boost the formation of collagen within the skin cells. It improves the elasticity of your skin by diminishing the occurrence of fine lines and open pores. So to attain all these health benefits incorporate more of colored fruits and vegetables in your diet such as carrot, red and yellow capsicum, mango, papaya, tomato, spinach, etc are highly rich in vitamin A content.

The supple skin vitamin: Vitamin C
Vitamin C is an essential vitamin for an overall flexibility of the skin. They are abundantly found in almost all sour fruits and vegetables, for example orange, lemon, guava, etc. vitamin C also plays a vital role in providing immunity to the body by drawing in more resistance power to the body. This vitamin also aids is getting rid of wrinkles and spots along with healing the sun-damage occurred on the skin – a main reason why it is an important ingredient of all pigmentation and fairness creams.