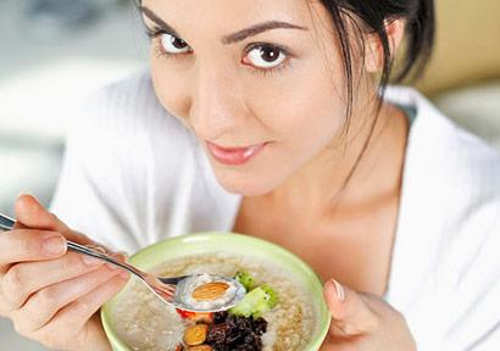 Eat oats for healthy skin & hair
Apart from consuming, oats have got several other health benefits. A bowl of oatmeals is perhaps the most healthy way of beginning your day. The benefits of oats are immense but we can split them into skin and hair benefits.

Treatment of acne: Cooked oatmeal is a natural remedy for treating acne and pimples. Boil some oatmeal until it gets soft and let it get cooled for about 15 minutes or so. This would help remove all the extra oil and bacteria present in your skin surface. Thus, it helps combat acne and pimple problems.

Removes dryness: Oats are very effective is lessening the dryness of the skin. Applying oats on the skin is effective in addressing dry skin symptoms. To get rid of skin dryness, you can make a facial mask by mixing a smashed banana with a cup of ground oatmeal and adding some lukewarm milk.

Moisturizer: Oats acts as a pure and natural moisturizer that completely removes dead skin cells. It gets penetrated into the skin to provide the required deep moisturizing to your skin.

Relieves Itchiness: Oats has got many anti-inflammatory properties that are suitable for all kind of skin types. They are clinically effecting in healing up dry and itchy skin.

Treatment of dry and itchy scalp: Oats are natural moisturizer. It can be applied on the hair to get rid of hair problems such as dryness and itchiness and makes your hair soft and shiny.

Treatment of dandruff: Oatmeal can be combined with other ingredients and applied on your hair before shampooing to get rid of dandruff.