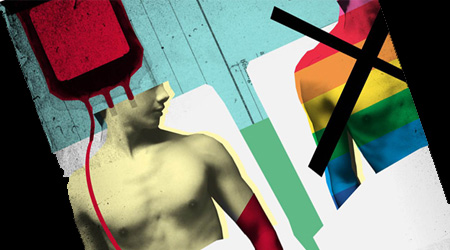 US allows gay men to donate blood
The US Food and Drug Administration (FDA) will allow gay men to donate blood if they have been celibate for one year - lifting a 30-year ban. Before the rule change, potential donors in the US who admitted having sex with other men after 1977 were not allowed to give blood.

The new policy treats gay men the same as other higher risk groups. People who have sex with prostitutes or have used intravenous drugs in the past 12 months are also barred from giving blood. Some gay activists called the one-year rule discriminatory, but it matches policies in other counties including the UK, Australia and Japan. The ban was put in place at the start of the Aids crisis during the 1980s.

Many LGBT organizations view the restrictions on donation as based on homophobia and not based on valid medical concern since donations are rigorously tested to rule out donors that are infected with known viruses such as HIV, Hepatitis B, and Hepatitis C. They state the deferrals are based on stereotypes. Proponents of the lifetime restriction defend it because of the risk of false negative test results and because the MSM population in developed countries tends to have a relatively high prevalence of HIV/AIDS infection. The UK government advisory committee, SABTO, states that the risk of transfusion of HIV infected blood would increase if MSM were allowed to donate blood. Opponents of prohibitions against MSM point out that screening of donors should focus on sexual behavior as well as safe sex practices since many MSM may always have protected sex, be monogamous, or be in other low risk categories.