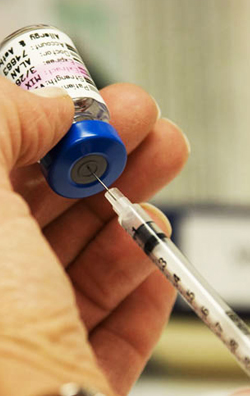 Immunization
Immunization is the process whereby a person is made immune or resistant to an infectious disease. In this process, the individual's immune system becomes fortified against an immunogen (disease causing organism/ foreign body).
When a foreign body (immunogen) enters our body, the immune response begins to destroy the foreign body. With immunization the body's ability to respond quickly to the invading immunogen will be developed and also the body's immune system develops a memory towards similar immunogen, which is termed as immunological memory. Similarly if an animal is exposed to an immunogen in a controlled way, body will acquire memory to protect itself from similar immunogen towards future encounter, hence immunization can be said to be as same as acquired or adaptive immunity.
Immunization can typically be achieved by the administration of a vaccine. Edward Jenner first coined the terms vaccine and vaccination. They are derived from the word Variolae vaccinae (smallpox of the cow).
According to WHO statistics, immunization prevents an estimated 2-3 million deaths every year. Yet 1 in 5 children still misses out and this accounts for 22.6 million children across the globe.
Types:
Vaccines contain weakened (attenuated) or killed forms of the microbe, its toxins or one of its surface proteins, that resembles a disease-causing microorganism. Vaccines can be prophylatic or therapeutic.


1. Killed Vaccines
Virulent micro organisms are destroyed by using chemicals, heat, radioactivity, or antibiotics. Examples are influenza, polio, rabies, cholera, plague, hepatitis A etc.

2.Attenuated Vaccines
Some vaccines contain live, attenuated microorganisms. Here the virulence of the virus is disabled or the vaccine is prepared out of organism that is closely related but is less dangerous. Examples are mumps, typhoid, rubella, yellow fever, BCG vaccines etc.

3.Toxoid Vaccines
These vaccines are made from inactivated toxic compounds that cause illness rather than the micro-organism. Examples of toxoid-based vaccines are tetanus and diphtheria.

4.Subunit Vaccines
Protein subunits are the fragments of a micro-organism that can create an immune response.Hepatitis B vaccine is composed of only the surface proteins of the virus. Subunit vaccine are also used for plague immunization.

5.Heterotypic Vaccines
Heterologus or "Jennerian" vaccines are pathogens of other animals that cause mild or no disease in the organism being treated. The classic example is Jenner's use of cowpox to protect against smallpox. BCG vaccine made from Mycobacterium bovis to protect against human tuberculosis, is a heterotypic vaccine.

6.Conjugate Vaccines
Conjugating poorly immunogenic polysacharide with proteins to create immunity. This method is used in the Haemophilus influenzae type B vaccine.

7.Valence Vaccines
Vaccines may be monovalent (univalent) or multivalent (polyvalent). A monovalent vaccine is designed to immunize against a single antigen or single microorganism. A multivalent or polyvalent vaccine is designed to immunize against two or more strains of the same microorganism, or against two or more microorganisms.

8.Experimental Vaccines
A number of innovative vaccines are also in development and in use. Few examples are Dendritic cell vaccines, Recombinant, Vector vaccines, DNA vaccines, synthetic vaccines etc.
Vaccines are widely used across the world, to offer protection against diseases caused by micro organisms including bacterias and viruses. Still some infections do not have vaccines. Various researches are still on to develop potent vaccines against many diseases.


World Immunization Week
World Immunization Week is a global public health campaign to raise awareness and increase rates of immunization against vaccine-preventable diseases around the world. It takes place each year during last week of April. As immunization can protect against 25 different infectious agents or diseases, from infancy to old age, creating awareness and motivating public to be vaccinated is vital. The theme for the year 2014 is "Are you up-to-date?"



Recommended immunization schedule followed in India (Indian Medical Association)


| Sl. No | Age | Disease | Vaccination | Remarks |
| --- | --- | --- | --- | --- |
| 1 | At birth | HEPATITIS B | HEP B VACCINE -I | |
| 2 | At birth | POLIO | ORAL PV 0 DOSE | |
| 3 | Birth to 6 Wks | TUBERCULOSIS | BCG | |
| 4 | 4 -6 Wks | HEPATITIS B | HEP B VACCINE -II | |
| 5 | 6 Wks | DIPHTHERIA PERTUSIS TETANUS POLIO | DPT-I OPV -I | |
| 6 | 10 Wks | DIPHTHERIA PERTUSIS TETANUS POLIO HEPATITIS B | DPT-II OPV-II HEP B VACCINE III* | *DELHI GOVT RECOMMENDATION |
| 7 | 14 Wks | DIPHTHERIA PERTUSIS TETANUS POLIO | DPT-III OPV- III HEP B VACCINE IV* | *DELHI GOVT RECOMMENDATION |
| 8 | 24 Wks | HEPATITIS B | HEP B VACCINE III* | *IAP RECOMMENDATION |
| 9 | 9 -12 Months | POLIO MEASLES | OPV-IV MEASLES | |
| 10 | 15-18 Months | MUMPS MEASELES RUBELLA | MMR* | *RECOMMENDED BY DELHI GOVT & IAP ONLY |
| 11 | 18 Months | DIPHTHERIA PERTUSIS TETANUS POLIO | DPT –BOOSTER I OPV –V | |
| 12 | 24 Months | TYPHOID | TYPHOID* | *IAP RECOMMENDATION |
| 13 | 4-5 Years | DIPHTHERIA PERTUSIS TETANUS POLIO | DPT BOOSTER – II OPV -VI | |