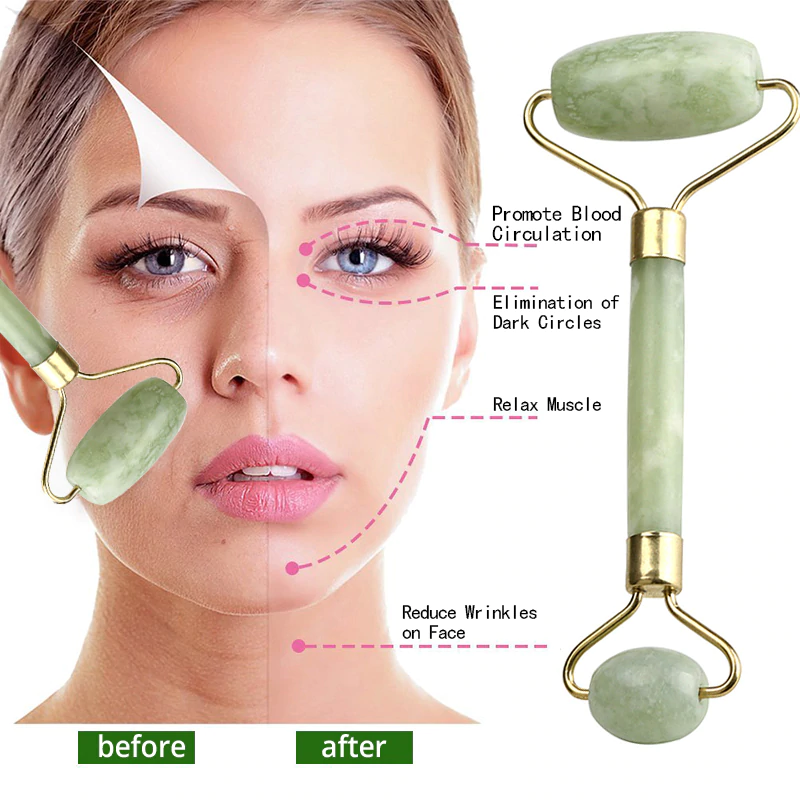 Jade rollers
What are jade rollers, and what are they supposed to do?
Jade rollers are handheld massaging tools typically made with one or two jade stone
heads, allegedly boost blood circulation, reduce under-eye swelling, and help products
absorb better into your skin. Jade rollers are simple beauty tools that have been popular
for centuries among China's high society. In more complicated and specific terms, jade
rollers assist in lymphatic drainage by essentially pushing fluid out of the tissue beneath
your skin and into the lymph nodes. This not only reduces swelling and puffiness, but it
also helps to circulate blood, which brightens the skin.
How do you use them?
It's literally as simple as rolling it over your skin, and it only takes about two minutes of
your time. However, you'll need to consider proper technique to get the best results.
There's essentially a chain of lymph nodes along your jawline and up by your temples
that you want to make sure to roll toward so all the fluid drains properly. You never just
want to roll the stone back and forth, because all that does is redistribute fluid
throughout your tissue. You should use long strokes, repeating each one about three to
four times in the pattern shown on the chart below.
It's best to use the larger end of your roller for your cheeks, neck, and forehead, and
switch to the small end for your nose and under-eye area. But before you start rolling,
you'll want to make sure your skin is clean and freshly slathered with your favorite
serum or moisturizer. When you're done, always wash the roller and dry it for sanitation
purposes.