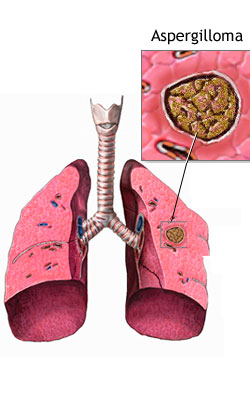 Pulmonary aspergilloma - A short discussion on the cause, risk factors and treatment options
Aspergilloma or fungal ball is a type of opportunistic fungal infection occurring mainly in people with impaired immune function. Lungs are the most commonly affected organs.The spores of the causative fungus Aspergillus are widely present in the environment both outdoors (like in the decaying leaves, compost, green crops etc) as well as indoors (like in ducts of air conditioners, insulators etc). Exposure to spores even on regular basis does not lead to any infection in healthy people.
However the disease can present in various forms in people with poor immune function. In most of the people with minimal impairment of immune function the infection is asymptomatic and detected incidentally during chest X ray done for other purposes. In people suffering from asthma or cystic fibrosis exposure to the spores may lead to allergic reaction. In severely immunocompromised patients as those taking immunosuppressant drugs before or after transplant surgery, bone marrow transplant or stem cell transplant procedures, people in advanced stage of AIDS etc, the disease may take life threatening form, the invasive pulmonary aspergillosis. In this form the infection spreads from the lung cavity to other organs of the body like the brain, heart, kidneys and the skin.
Another dreaded complication of aspergilloma is excessive bleeding from the lungs due to the fungal mass.
Treatment options depend upon the severity and type of the disease. Options are wait and watch in asymptomatic cases, drugs like antifungal agents and steroids and surgical interventions.
Causes
Exposure to the spores of Aspergillus is somewhat unavoidable as these spores are extensively present both outdoors in decaying plant products, compost, leaves, crops etc and indoors in the air conditioning and heating ducts, insulation pipes, several foods or spices etc.
In a person with normally functioning immune system exposure to Aspergillus does not pose any threat. This is because following entry of the spores through the inhalational route; these spores are successfully destroyed by immune system of the person. However the situation changes in a person with impaired immune function as in them inadequate clearing of the spores from the body leads to spread of infection to different organs starting from the lungs.
Fortunately this disease does not spread from an infected person to a non infected person (non contagious).
Risk factors
Common risk factors include
1. Impaired immune function: as seen in people taking immunosuppressant drugs like people about to or already undergone organ transplant surgery, stem cell or bone marrow transplant. People suffering from AIDS.
2. People with low white blood cell count: as these are among the principal immune cells of the body low white blood cell count increases susceptibility of a person to invasive aspergillosis.
3. People with healed cavity like lesions in the lungs following past history of certain lung diseases namely tuberculosis or sarcoidosis are at increased risk of suffering from aspergillosis. As the fungal ball tends to get accumulated in these cavities.
4. People suffering from asthma or cystic fibrosis are more prone to develop allergic reaction following exposure to the spores of Aspergillus.
5. People taking corticosteroids for prolonged duration as those suffering from rheumatoid arthritis, inflammatory bowel diseases are at increased risk of suffering from opportunistic infections including aspergillosis.
Treatment
Treatment for aspergillosis depends upon the severity and type of the disease. Treatment options include
1. Observation without any intervention: in most of the cases simple aspergillosis without any symptom does not require any treatment other than close monitoring by chest X ray. However if the disease is seen to progress treatment with antifungal drugs is recommended.
2. Oral steroids are administered especially in patients with asthma or cystic fibrosis to prevent the worsening of the two diseases. Steroids are used in combination with antifungal drugs.
3. Antifungal drugs like amphotericin B was used earlier, currently drugs like voriconazole are preferred because of fewer incidences of side effects and better efficacy.
4. Surgical intervention: sometimes surgery becomes necessary as antifungal drugs may not be able to penetrate the fungal ball. Hence in these cases the fungal ball itself is removed surgically especially if there is bleeding from the lungs due to the fungal mass. This type of surgery is quite risky hence embolisation may be recommended instead. In this process with the help of radiological aid an agent which facilitates blood clotting is injected in the artery supplying the part of the lungs from where bleeding occurs.