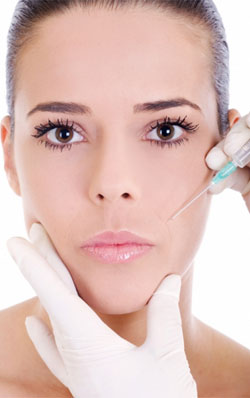 Soften Lines And Furrows On The Face
Collagen is a natural protein that provides structure for the skin and other body tissues. Collagen injections are recent 'remedy' for the unwelcome aspect of aging. Aging process leaves lines, creases, and wrinkles on our faces. In most cases, the procedure is safe and effective, but it is of high cost and the remedy is only temporary. The temporary results can be achieved in less than an hour. Beyond all these, injection should be carried out only by expert health professional.Collagen injections are also used to treat stress incontinence, the leakage of urine that is caused by weakened pelvic muscles. Placing collagen into tissues around the urethra can help tighten the bladder's closure.
Short- lived beauty:
Collagen breaks down on aging, allowing wrinkles to develop in the surface of the skin.
1) Collagen used for injection purpose is usually a purified form taken from cows.
2) Fat from the body of the patient may be taken by liposuction, and is used for injection.
3) The material, injected just under the skin's surface, provides a 'plumping' effect that can smooth lines.
4) It can also add life to sunken cheeks.
5) Fill up the scars
6) Makes the lips look fuller.
7) The new look lasts only up to 3- 12 months.
8) This is because; body absorbs all the collagen gradually, thereby, removing it completely.
9) To maintain the results, injections has to be used regularly.
Risks:
1) The injections can cause slight stinging sensation.
2) Temporary redness
3) Itching and swelling
4) In certain cases; bulging, discoloration, severe swelling, scarring or allergic reactions such as hives.
Preparations:
There are to be strict preparations before turning into the injection.
1) Several weeks before, tests for allergies to bovine collagen and lidocaine. Lidocaine is an anesthetic that is often mixed with collagen.
2) Pregnant women are advised to keep away from this.
3) Those who suffer from autoimmune disorders, such as rheumatoid arthritis or lupus also should avoid collagen injection.
Cost:
The patients are to pay per injection. This expense slowly increases with the years that pass by. If the fat of the same person is used for the injection;
1. Cost may be reduced
2. The results may last longer
3. Autoimmune disorder risks may be prevented.
But still, the process of liposuction is surely a high cost process.
Simple alternatives:
Simple methods can be opted for saving the face from wrinkles;
1) Keep away from smoking to keep skin smooth
2) Stay away from the sun whenever possible
3) Use sunscreen
4) Apply moisturizer everyday
5) The easiest way is to enjoy the natural aging and keep the wrinkles.
On the future perspective:
A new type of injection material called Autologen is being famous now. This uses the patient's own natural collagen. This is being tested.The treatment would eliminate the need for pre- injection allergy tests. Its effect lasts for a year or more. Even longer- lasting results might come from an injection material called Dermalogen. This is developed from collagen extracted from human dead body tissue.