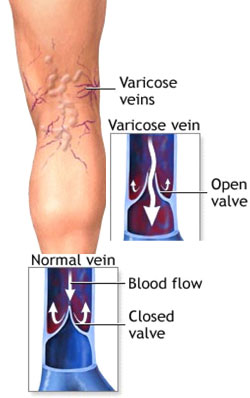 Varicose Veins
Veins that are enlarged and twisted in nature, usually present on the legs are called varicose veins. These veins are most common in the surface veins of the leg. When standing these veins are subjected to high pressure and will cause severe pain to the leg.Veins contain some leaflet valves which will prevent the backward flow of blood. When the veins become varicose, these valves do not work properly and this permits the blood to flow backwards. Thus the veins gets enlarge even more. Life threatening problems are rare with varicose veins, but very old varicose veins can lead to swelling of the leg, skin thickening, venous eczema and ulceration.
Signs and symptoms:
1) Painful leg, usually intensified after exercise and at night time
2) Spider like enlarged veins are appeared on the leg
3) Bulging of ankle
4) Brownish-yellow and shiny skin discoloration in the affected area
5) Venous eczema or stasis dermatitis, itching, redness and dryness of affected skin areas
6) A rapid move like standing up will lead to cramps
7) Bleeding time is more than normal, when an injury occurred in the affected area
8) Sometimes fat below the skin become harder and skin on the ankle may get shrink
9) Irregular white scar like patches appear on the ankle. This condition is known as atrophie blanche
10) Restless leg syndrome
11) Other Chronic venous insufficiency
Complications:
Varicose veins are mostly gentle in nature. But due to the poor circulation of blood through the affected area, severe varicosities may lead to major difficulties like:
1) Inability to walk and stand for long hours
2) Severe pain and heaviness
3) Skin infections
4) Skin ulcers
5) Old skin ulcers may lead to carcinoma or sarcoma
6) Severe bleeding due to minor injury at the affected area
7) Blood clotting inside the affected veins
Stages:
1) No visible or clear signs
2) Spider like veins (telangiectasia) on the legs
3) Varicose enlarged veins with or without symptoms
4) Edema
5) Pigmentation on the skin, eczema
6) Skin changes with healed ulcers
7) Skin changes with active ulcers
Causes:
Varicose veins are most common in males than females. Heredity is one of the reasons for varicose vein. Other associated causes are;
1) Obesity
2) Pregnancy
3) Menopause
4) Prolonged standing
5) Aging
6) Injury on the leg
7) Abdominal nervous tensions
Varicose veins could also be caused by hyperhomocysteinemia. The formation of three main structural components of artery like collagen, elastin and the proteoglycan are inhibited by this condition. The cysteine disulfide bridges and lysine amino acid residues in proteins degraded permanently by the homocysteine. This will progressively affect the structure and function. Thus homocysteine is considered as a corrosive for long term or lifelong proteins like collagen, elastin and fibrillin.
Clinical Tests:
1) Trendelenburg test
2) Fegan's test
3) Perthe's test
4) Multiple tornique test
These tests are of limited value now. The mostly used clinical test for varicose vein is Lower limb's venous ultrasonography.